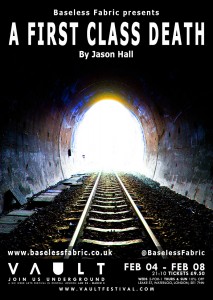 by Jason Hall
1854: London's cemeteries are full. The London Necropolis Railway is built in Waterloo station to transport the dead outside the city. 2015: London's cemeteries are filling. The line is re-opening. And you've got a ticket. Baseless Fabric invite you onboard for this promenade performance about the fact you're going to die one day.
A First Class Death uses the fascinating history of Waterloo's vaults to explore the attitudes and rituals around dying today. The piece will challenge, entertain and involve the audience as they move through the local area and the atmospheric Cavern space, once a repository for the dead awaiting their final journey.
Reviews
A First Class Death is particularly effective as a promenade piece because the physical setting and the concept are inseparable
- A Younger Theatre
Be challenged to genuinely reflect upon (and laugh about) your own mortality.
- Remote Goat
Expertly using the communal and ritualistic devices of theatre to bring about honest discussions about death and funerals
-

, Theatre Bubble
It's an evening unlike many others-
Rachael Smith, A Younger Theatre
Blog Posts
Dates & Times:
4th – 8th February 2015
21:10 Wed-Sun and 16.40 matinees Sat & Sun
Tickets:
£9.50
Wednesday: 2-For-1
Thursday & Sunday: 10% off
Thursday: Post performance Q&A (optional & inc in ticket price)
A short part of this performance takes place outside. Please dress sensibly.
Address: Leake St, Waterloo, London, SE1 7NN