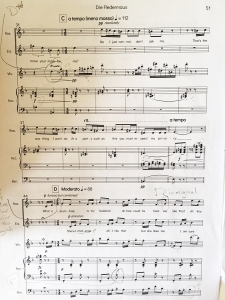 Composer Leo Geyer talks about re-writing the music for our Die Fledermaus adaptation:
Re-imagining a 2-hour opera with 10 roles, chorus and full orchestra down to 1 hour, 4 roles, no chorus and 3 instruments, and to be performed in promenade – is an exciting challenge for any composer! The first hurdle to overcome is which 3 instruments to choose…
Essentially, you need a melody, bass and harmony instrument. In most Classical and Romantic music, the first violin is given most of the melodic material, and this is certainly the case for Die Fledermaus, so violin is the most obvious choice for our melody instrument. The cello is usually playing the bass line so a natural chose but you have to play it sitting down, which makes a promenade performance impossible! Similarly, the double bass is too big and heavy to play on the move. Other options could be the trombone or sousaphone (a tuba that wraps around the body!), but neither are agile instruments for Strauss's often busy bass lines and both are too loud against a solo violin. This basically leaves one option – the bassoon! Plus, its somewhat humorous sound quality (the bassoon is always accompanying cartoons!) is perfect for comic opera. For a harmony instrument, whilst a keyboard instrument such as a piano, would be ideal in providing the harmony – it's impossible to move! Acoustic guitar could be an option, but it has no sustain and is very quiet, so the only alternative is the classical accordion!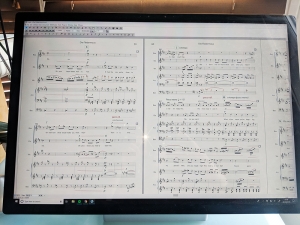 As Jo has mentioned in her blog, after spending time working out our cuts, Jo worked away at a new libretto. Once Jo had finished, it was my turn to start on the music. I started with the full orchestral score, which I'd already marked up with our cuts and annotations about how to smoothly transition from one cut to another. I would start by writing the violin part, because this is more or less the original violin part. The bassoon part is more difficult. Sometimes it makes most sense to give it the cello line, in other words, the bass line. However, often there is counterpoint, which needs to be brought out, so in reality the bassoon part is a mix of lots of different lines. Once I've written these two parts, I essentially give the accordion the rest! In Die Fledermaus, the strings are often playing chords to accompany the melody, so it's quite straightforward to amalgamate these into the accordion. Then it's matter of working out what else is important in the orchestration and slotting it in!
Once I'd completed the instrumentation I would write out the vocal lines and insert Jo's new text. It's a tough job writing a new libretto, particularly as the original is in German. The new text has to have the right number of syllables to fit with the melodies and then more difficult still, the stresses of the words have to fall with the stresses in the music. If they are not in the right place, then it becomes very difficult to sing, and therefore difficult to hear the words. So Jo and I have to work hard to get this to work, which sometimes means making small amends to the music. Die Fledermaus is a bit more problematic than Cosi, because the chorus are much more involved and there are more solo roles than we have available. In some cases, I have had to change the vocal lines so as to complete the harmony and make a full sound. As a result, this has made Eisenstein's part higher, and it has be sung by a tenor, when normally Eisenstein is either a tenor or a baritone role.
Re-writing the music is a very time-consuming process – the final score has over 40,000 notes! Naturally with that volume of notes there are bound to be some errors. So after completing it, my editor, Jo and I, go over the score in fine detail to iron out any errors. And now it's ready! I'm very much looking forward to hearing it for the very first time in November!