Despite the grey January days this particularly bleak January we have something very exciting to look forward to this summer! With the hugest thanks to the Postcode Community Trust, we are thrilled that later this year when the weather warms up, Covid restrictions are lifted a little and hopefully many carehome residents will have received their vaccine, we are able to offer South West London carehomes a FULL PERFORMANCE of our acclaimed re-imagined Die Fledermaus (4 stars – The Guardian)!
As with our recent carehome concerts, these performances will again take place in the carpark or garden of the care homes to keep residents, staff and artists safe in these changing challenging times. And we are thrilled that this time rather than just concerts we can offer a full performance of Die Fledermaus giving residents and staff an opportunity to enjoy the full story of Strauss' operetta.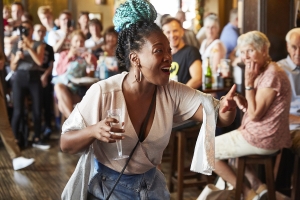 Die Fledermaus ('The Bat' or Bat Man in our version!) is a hugely fun, often silly story with some brilliant characters and very catchy tunes. Our new production is reimagined for London life today, cut to approximately an hour, and with a new modern English libretto by Baseless Fabric Artistic Director Joanna Turner, and with the music re-written for violin, accordion and bassoon by Leo Geyer.
We also hope to be able to offer general public performances of Die Fledermaus this summer depending on Covid restrictions so make sure you join our newsletter to be first to hear.
Meanwhile, we're dusting off the Batman costume and can't wait to bring a smile to the faces of carehome residents and staff in Merton & Wandsworth this summer.
Whisked the frothy original into a nimble 50- minute snapshot of modern life
-

, The Guardian
It's great fun, and Turner's updating gives a ring of truth to the potentially farcical story.
-

, The Stage