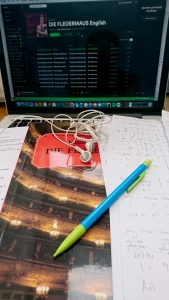 After the success of last year's Cosi Fan Tutte and with the amazing opportunity afforded by Wimbledon Foundation's Arts & Community Engagement Fund, we were excited to get to work on the tricky but satisfying process of adapting another opera for performances along the high street to reach audiences who might never go to see an opera in a traditional opera house / theatre venue.
As we'd had such positive audience responses to our adaptation of Cosi, we decided to have the same team re-writing Die Fledermaus – myself, Artistic Director Joanna Turner, re-writing the libretto (the words the characters sing) and Leo Geyer re-writing the music (changing what's written for a full orchestra to 3 instruments, changes to vocal lines and of course making sure our massive cuts work musically). Together Leo and I also cut the opera down to about an hour and adapt it to make sense for the modern high street.
In some ways, Die Fledermaus had some more immediate problems than Cosi. With Cosi we only cut one main character out of the original six, whereas Die Fledermaus originally has ten main characters and we needed to reduce this to 4 or 5 since in many of the cafes and supermarkets we perform in it was hard to fit in 5 singers, 3 instrumentalists, stage management, volunteers and audience so there was no way more singers would fit! Plus so much happens in the story we thought we could streamline it to make the plot clearer by focussing on the main characters and the 'revenge of the bat.' And I had the challenge – and freedom – of writing spoken scenes as well as words for the music this time.
We also had to think about where on the high street our scenes would take place when they were originally intended for a home, a prince's mansion and a jail, and so how the story would adapt in order to work for our performance locations in a modern context. As part of this modernising Leo and I discussed how to really engage an audience with a modern high street version of the story including how to make the characters real as people today and how the plot might unfold in a modern context – which is where the change from 'bat' to 'bat…man' superhero party disguises come in.
These discussions then led to us deciding which characters and which bits of music were not entirely necessary. We decided where to make big cuts and where we could use the music and its emotional journey to tell a slightly different story in our version (eg an Act 3 Trio between Rosalinde, Eisenstein and Alfred has been re-written for Rosalinde, Eisenstein and Falke with more of a focus on the revenge of the bat…man plot but with the same emotional structure).
After these discussions with Leo, I then sit down with English recordings of the music to listen to, different versions of the English translations to read, the vocal score, and a big pile of paper, pencils and a good eraser – and spend rather a lot of hours on my own scribbling and rubbing out words and phrases to write what I think the characters would say at that part of the story today and how to get that to fit with the musical rhythms. 90% of it fits and 10% Leo gives me notes for things that don't quite fit and need re-writing – and we'll probably both get a few more notes from the singers in our R&D rehearsals in the autumn!
Re-writing the words and re-imagining the story of Die Fledermaus has been a really fun process and we very much hope audiences, whether they've seen the opera before or not, will enjoy the characters, story and catchy tunes in our high street adaptation. We'll be inviting you to our R&D sharing later in the autumn so you can let us know if the story makes senses and if the words are clear so that we can make it even better if not – more details to be announced soon!