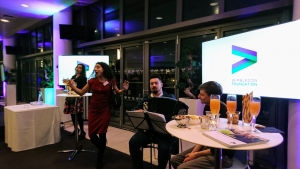 Two girls catch the eye of two good looking guys across a crowded room at a party and fuelled by a couple of glasses of wine and having checked their make-up decide to go over and chat to them. A scene that happens all the time across many a crowded room. Except that this time our two girls were Fiordiligi and Dorabella singing a duet from Mozart's Cosi Fan Tutte from Baseless Fabric's new adaptation with arrangement by Leo Geyer and libretto by Joanna Turner.
Last year we performed our re-imagining of this classic opera in several town centre locations across South London and one of our funders, the Wimbledon Foundation, asked us to perform a short excerpt at their reception for the local charities they support a couple of weeks ago.
We had so much fun revisiting our girls' flirtatious duet with the fantastic Claire Wild (Fiordilgi), Bartosz Glowacki (accordion) and Leo Geyer (Musical Director) from our old team and Rachel Maby brilliantly stepping in and joining us as Dorabella. And our audience certainly seemed to appreciate the unusual short performance as part of the evening's events where representatives from the local charities, including ourselves, were treated to delicious food (including Wimbledon strawberries of course), a tour of Centre Court, speeches from other brilliant local charities the Foundation supports, and the chance to have photos taken with the Championship trophies. You can read more about the evening here.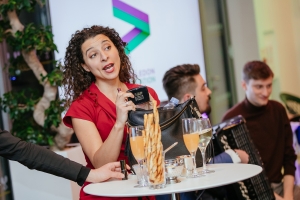 And stay tuned as we have some very exciting news about our next project which we will be announcing very soon!
Thanks again Wimbledon Foundation for having us at the reception! And for the strawberries!