-So, this is for you?
The man in the wig shop was gesturing for me to try on the brunette wig he was holding in his hands.
-Oh no, it's actually for a man, the director Joanna pitched in.
-For a man? Is he dressing up as a lady? Said the bemused wig vendor.
Joanna smiled and explained that she is putting on a new adaptation of Cosi Fan Tutte and in this version, our two suitors, Ferrando and Guglielmo –are city bankers dressing up as grungey surfers to seduce their unsuspecting girlfriends to win a bet. The wigs are a part of the costume our bankers don to deceive their supposedly faithful girlfriends. Of course, our bankers are betting that they will fail and their girlfriends will remain as faithful as they believe them to be, but who can resist a rough but charming surfer? Especially with that hair!
As Baseless Fabric Theatre performed Cosi Fan Tutte on the high street with little (if any) time for the cast to change into surfers and back to bankers the costume choices had to be made in such a way that the core of the outfit would remain the same and a few key accessories and guises would create the surfer look. Wigs being one of them.
The costume process started with the artistic director Joanna and I having a meeting where we went over what kind of look she wanted for the characters and what costume challenges we would face by performing on the high street.
For our second meeting, I had done research and brought reference images for what a banker might wear, and for grunge/surfer style.
Of course, the biggest challenge was how to transform the preppy bankers to surfer dudes with minimal time for a costume change and no place for them to change into their surfer look. This meant going back to the research and trying to find what kind of shoes and trousers could work for both costumes if styled differently. We went over different options and ended up deciding that the singers would have a relatively neutral base of white undershirts, dark suit trousers and smart sneakers which could then be paired with a white shirt to give off the look of a banker or be paired with wigs, accessories and Hawaiian shirts or plaid shirts for the grunge/surfer look.
As a costume assistant, no day looks the same. One day I'm scouting wig shops in Brixton Market or Tooting Broadway, the next I'm trawling through any and every charity shop to find the right kind of seashell necklace to really sell the illusion of "surfer dude".
Or you might find yourself carefully dashing watercolour on to a blond wig to make it look like the hair of a grungy surfer.
The first few days of costume assisting I was searching through charity shops, and wig shops, but also large chains like H&M and TK Maxx trying to find clothes that could work for both styles of costume and would require as little time as possible to put on. Or I did research, including asking my dreadlocked, bongo drum playing busker friend about accessories grungey people can't do without. (Seashell necklaces are apparently a must-have.)
I would then pop into rehearsals and have the actors try on costumes and accessories to see what worked and what didn't. For example; What could they put on quickly and without help (or mirrors!)?
The wigs were by far the most entertaining task. In order to transform these two lady's wigs into the dishevelled hair dos of our two lotharios they were straightened, cut, dyed and had yarn braided into them. Tricky sometimes and mostly easiest to do while wearing them yourself, which gave me the pleasure of startling flatmates when they don't recognise me as a brunette straightening my hair in the hallway mirror.
The brunette wig was the easiest. After straightening it and adding a bandana to it our actor looked like a young long-haired Tom Cruise doing a guest appearance in Lords of Dogtown.
The blond ladies wig we had bought was too clean looking to pass for the hair of a surfer and was very much too long to begin with, so I sat the actor down during a short break in rehearsals and chopped off half of it while he was wearing it. After that slightly radical haircut, I spent a lot of time carefully messing it up, adding braids with yarn and dying it with watercolour to give it the right look.
We finished the blond wig styling by adding a baseball cap to it and our two surfer dudes were all set to seduce their ladies!
Cecilija Berg
Costume Assistant
Cosi Fan Tutte
Our Next Production: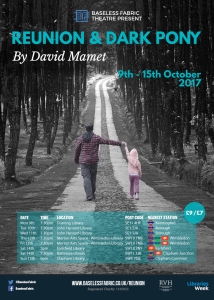 Reunion & Dark Pony
By David Mamet
9th – 15th October 2017
In Libraries across Merton, Wandsworth, Lambeth & Southwark
Find Out More