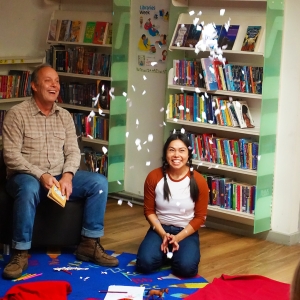 A few weeks ago we had a fantastic time being part of National Libraries Week presenting our Reunion & Dark Pony production. Libraries are such amazing spaces and to be part of a national week of events showcasing a wide range of fun activities and events that libraries can be used for was just brilliant.
We had lovely feedback both from reviewers and audiences about our site-specific performances of these fantastic plays. As one reviewer commented: 'The company couldn't have chosen a more suitable author for this purpose than the one who once said "My alma mater is the Chicago Public Library. I got what little educational foundation I got in the third-floor reading room, under the tutelage of a Coca-Cola sign".' (Everything Theatre)
One of the aims of the project was to bring new people into these fantastic library spaces – perhaps theatregoers who may not also be accessing library services – and we had some lovely feedback from people including someone who isn't a library member commenting: "I didn't know about this place and now I love it!"
We also wanted to bring theatre closer to people who might otherwise struggle to access theatre perhaps because of distance, cost or disability and so were thrilled by feedback such as this: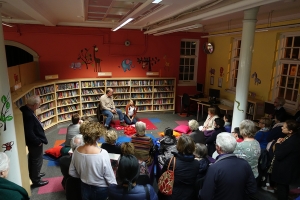 "Really enjoyed the performance! I found the length + the setting very accessible and less of an ordeal to navigate to which puts me off going to the theatre as often as I'd like."
"I go whenever I can! But cost and disability restrict me. Tonights performance was lovely."
And overall everyone both library members and non-library members seemed to agree with us that having theatre productions in libraries was a pretty great idea!
"This rarely performed double bill is both an ideal introduction to theatre for new audiences, and a treat for seasoned theatregoers." (Everything Theatre)
"This was a most enjoyable production perfect for its location." (LondonTheatre1)
"A great idea to have such plays in the library." (library member)
"Good to see the library in multi-use" (not a library member)
"More theatre in libraries please!" (library member)
We've really enjoyed presenting this production in the 6 beautiful library spaces including our local new arts space – Merton Arts Space in Wimbledon Library. We also had great fun in our kids drama workshops in half term – making up a story about an evil sandwich–eating robot was a particular favourite of mine. So we'll tell you more about those very soon…