It's all coming together for Cosi Fan Tutte Street Opera! We're super excited to announce our performance dates across the borough of Merton with the starting point in each area. The first scene will take place in the place mentioned below but we'll shortly be moving on to the next local business for the next scene. So come prepared to follow the story along the high street with scenes taking place in a variety of different businesses with just a short walk in between. We've got some crackers of places this year! It'll be huge fun.
Running time is about an hour but don't forget, you're free to stay for as long or as little as you like. So if you've never seen opera before but can only stay for 10mins just come watch the first scene – what have you got to lose?!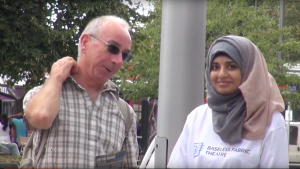 And of course please do come and say hi! We'd love to know what you think of the performance – if you already love opera, we'd love to know what you make of our unusual adaptation, and if you've never seen opera before we'd love to know what you thought. Just come say hi to any of our team wearing Baseless Fabric t-shirts.
We look forward to seeing you very soon for some opera in the pub, cafe, library, supermarket, shop or bus stop and don't be too surprised if the person next to you starts singing!
Performance Dates
FREE
| | | |
| --- | --- | --- |
| Date | Time | Start Location |
| Thursday 27th July | 5pm | TOOTING (starting at Gorringe Park Pub, SW17 9HW) |
| Friday 28th July | 12.45pm | POLLARDS HILL (starting at New Horizon Centre cafe, CR4 1LT) |
| Friday 28th July | 5pm | RAYNES PARK (starting at the Raynes Park Tavern, SW20 0LA) |
| Wed 2nd August | 1pm | COLLIERS WOOD (starting at M&S Cafe, Savacentre/The Qube, SW19 1DD) |
| Thurs 3rd August | 1pm | MORDEN (starting on the forecourt outside the Civic Centre, SM4 5DX) |
| Thurs 3rd August | 5pm | WIMBLEDON (starting at Patisserie Valerie, Wimbledon Piazza, SW19 1QB) |
| Friday 4th August | 1pm | MITCHAM (starting at the Kings Arms, CR4 3HD) |
| Saturday 5th August | 4pm | WIMBLEDON VILLAGE (starting at the Dog & Fox, SW19 5EA) |
| Sunday 6th August | 3pm | WIMBLEDON (starting at Wimbledon Piazza, SW19 1QB) |