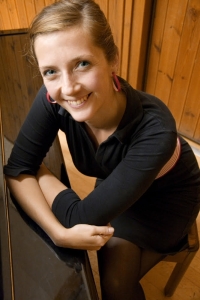 Ruth is a dynamic musical director, composer/arranger, vocalist and singing for health practitioner/researcher,
who puts human connection at the heart of her work. She has an inclusive attitude to all genres having initially studied classical music and voice before continuing with studies in jazz, improvisation and contemporary and world vocal techniques. She is a graduate in Music and Philosophy from the University of Birmingham, where she conducted the University Chamber Choir before studying choral conducting and jazz singing in Lyon, France with Antoine Finck. She has continued her professional development following the vocal and innovative vocal conducting influences from Scandinavia (Peder Karlsson, Tine Fris-Ronsfeld, Jim Kernoe) and is currently doing the Voice Study Centre's Masters in vocal pedagogy, specialising in Singing for Health.

Ruth has given renowned performances as a conductor and vocalist at the Royal Festival Hall, The Barbican, Wigmore Hall, Birmingham Symphony Hall, The Roundhouse, The 606 Jazz Club, Kings Place and l'Opera de Montpellier. She has also worked with the Southbank's Voicelab artist in residence Mary King, and continues her collaborations with other singers and musicians in the UK's burgeoning choral scene.
Ruth works in all aspects of the voice, from individuals to leading 400-strong choirs in professional, amateur, health and educational contexts. Wherever she is, she enthuses, enables and gets the singers to experience personal growth, enhanced connections and to
achieve things they never thought were possible.
She founded Pram Chorus parents' choirs, Night Chorus and Vocality Singing community choirs and has led education and outreach projects for the Southbank Centre, music hubs in London and singing for health projects for various charities and mental health services. Ruth is passionate about inclusion and excellence for people of all ages, backgrounds and abilities.