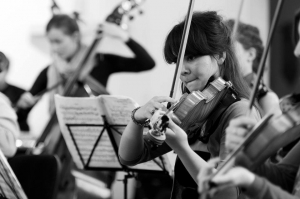 A primary school teacher asked her class to stand up if they wished to play the violin. Little did they know that Miss Olivia Jarvis had actually misheard her teacher and stood up thinking she was going outside to play; and so began the best mistake of her life.
Olivia's passion and drive for music has grown immensely since her primary school days. Constantly striving for the unachievable, she immerses herself in music of all dimensions whether it be trios, orchestra or solo works. Her motivation is not limited to just performance, she is constantly thinking up entrepreneurial ways to exhibit classical music to the best of her ability. The Aldwych Sinfonia (a vibrant young professional un-conducted ensemble) was founded by Olivia in 2012 and is one of the most vibrant groups in the performing sphere as the players can exhibit their talents as soloists as well as chamber musicians.
All of this attributes to her youth days in the National Youth Orchestra of Great Britain and the Junior Department of the Royal Academy of Music. Olivia gladly returned to the Royal Academy of Music for her masters degree in performance after finishing her bachelors degree in music at King's College London. Inspiration for her music and interpretation has always been a collective result of her learnings from great teachers and maestros. One of her most vivid memories was playing Shostakovich's Symphony No.7 Leningrad under the baton of Sir Mark Elder in the BBC Proms. Not only this but her teachers Frances Poole, Nina Martin and Richard Deakin have enhanced her creativity and expanded her musical mind and made her the musician she is today.
Olivia's solo and chamber performances are numerous and constantly expanding. She has been fortunate enough to have been given opportunities to play Mozart, Bach, Haydn, Shostakovich and Szymanowski concertos on a number of occasions in England and abroad in Europe. Her most recent recital was given to HRH Princess Margaretha of Liechtenstein.
As well as her solo performances, Olivia takes great joy in participating in orchestras symphonic and operatic; Olivia has led young professional orchestras in London such as the Opera Holloway, Eroica Ensemble and co-lead in Outcry Ensemble. Olivia plays on a Carlo Antonio Testore violin c1701.
Related Blog Posts: