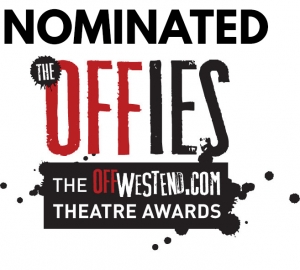 We have been overwhelmed and delighted by everyone's super positive responses to our Cosi Fan Tutte Street Opera!
Firstly, we are so excited to have been nominated for the Offies Best Opera Production award by OffWestEnd.com after one of their assessors saw our Morden performance. The nominations continue over the year with the 2017 winners announced early 2018 – so keep your fingers crossed and watch this space!!
And we couldn't be more thrilled by our 5 and 4 star reviews from Operissima and LondonTheatre1 respectively. You can read the full reviews at the links below or check out the Cosi Fan Tutte page for some of the quotations we've picked out.
5 Stars from Operissima: Unexpected Mozart in the bagging area
Cosi Fan Tutte by Baseless Fabric Theatre – Wimbledon Town Centre
And last but certainly not least the incredibly wonderful feedback from so many audiences at our 9 performances has been really touching and inspiring – lovely comments both from people who've seen opera before and some who'd never experienced opera before and were somewhat surprised to see us in the supermarket singing next to them! We even had several people who came along several times because they wanted to see how the performance worked differently in each location! In fact, from over 100 people who filled in our feedback questionnaires, 100% of those who said they'd never seen an opera before, said they loved it and would see opera again!! That makes the whole Baseless Fabric team so very happy indeed.
Here are some of our favourite answers on the feedback questionnaire to the question "What was your favourite thing about the performance?" –
"Everything! Sorry not to be specific but it really was FANTASTIC!"
"The whole. Absolutely wonderful :-)"
"Completely unexpected! Fantastic voices and music such that any traffic noise was completely lost, bravo!"
"Everything was outstanding. The new libretto/the arrangement/the singers/musicians. But watching the children totally captivated."
"I found the performance completely absorbing. I was transported from a busyish street to a grand opera house and found the story accessible, funny and moving. A unique idea brilliantly executed. Well done to all involved."
"The fact it was in English, great fun, constantly moving venues, the music and voices excellent."
And so, the hugest thanks to everyone who was involved in the production – supermarkets, libraries, cafes and pubs that agreed to let us perform in their store; our supportive partners and funders; the wonderful young people at schools and Jigsaw4u and older folk at the community organisations who've taken part in our workshops and sessions; our amazing volunteers without whose help we would never have pulled the logistics of the performances together; our fab singers and instrumentalists, and you, our amazing audiences.
We've had a lot of fun creating this performance so really hope you enjoyed it too. If you want to get in touch with any thoughts on the performance or ideas for our future street opera projects please do get in touch – we'd love to hear from you!