They've all done re-imaginings of Carmen!
Reimagining Carmen – one of the most famous operas fullstop – for our Baseless Fabric #HighStCarmen version definitely feels more weighted than our previous Cosi Fan Tutte or Die Fledermaus. There is so much history to it and so many people have so many opinions on both the character of Carmen and the story itself! However, it is also one of the most adapted stories – in fact Bizet and his librettist collaborators (Henri Meilhac and Ludovic Halévy) adapted it themselves from Prosper Mérimée's novella. And we are never ones to back down from a challenge of a bold re-imagining so here's some of the good company we're in – you might find a new favourite interpretation of this story yourself!
Prosper Mérimée's novella Carmen
This is the original. The male author telling the story through a male narrator (called Mérimée) who is told the story of a man, Don José, of his relationship with a woman, Carmen. Lots of masculine layers of telling this story of a woman even in the original!
Fascinating also that Don José was a pretty good smuggler in this version whereas in Bizet's opera he's generally shown to not be very good in that world. He also kills several people – including Carmen's husband Garcia (wait she's married?) – before killing Carmen. Not exactly the good, mild mannered boy then… Oh and Micaela doesn't exist.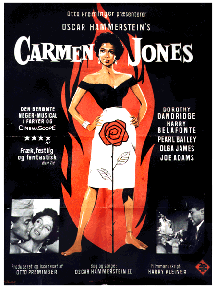 Carmen Jones the musical
One of our personal favourites. A 1943 Broadway Musical that combines Bizet's original music with new English lyrics by Oscar Hammerstein (co-creator of The Sound of Music and The King and I) and places the story in an African–American setting during World War II. The movie version with Dorothy Dandridge and Harry Belafonte was released in 1954. We think Dorothy Dandridge makes a particularly cool sassy Carmen and Don José is properly engaged to his sweetheart Micaela. (A lot clearer than 'the bringing news of your mother' chat between Micaela and Don José in Bizet's version if you ask us).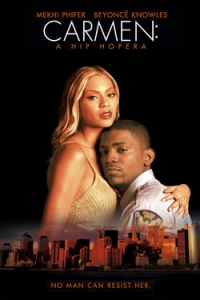 Beyoncé's Carmen: A Hip Hopera
Well, we can't say that is our favourite but it is a lot of fun! And interestingly a re-telling of Carmen Jones the musical rather than either Mérimée's novella or Bizet's opera. Of course Beyoncé is a super sexy Carmen and the film plays with the ending in an interesting way – with Don José being blamed for killing both Carmen and the Zuniga character – but it was actually Zuniga who killed Carmen…
Peter Brook's La tragédie de Carmen
The master storyteller. His version has just the 4 singing characters that we do but rather a starring speaking role from Lilas Pastia in the tavern who also seems to have quite the relationship with Carmen. There's also a comedy 'holding up a dead body and pretending he's not dead' scene in the tavern…as you do…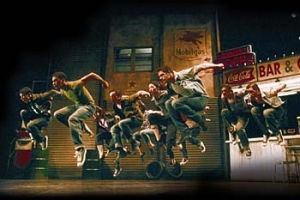 Matthew Bourne's The Car Man
This one's a dance production. And about a man. And apparently it's not based on Carmen but is loosely based on James M. Cain's novel The Postman Always Rings Twice….ok. Haven't seen this one ourselves sadly but we hear it's a goodie…
Lego Carmen
And finally our favourite. Introduced to us by a Merton primary school music teacher and we hope that lots of children get to experience this version. A super fun way to spend 10minutes (or so) on YouTube.
So watch out world….If LEGO and Peter Brook can reimagine Carmen – so can we! Come see us this August!