Information about current opportunities are below but if you'd like to get involved in any other way we would love to hear from you – please feel free to contact us
Stage Managers!
We are looking for a brilliant Stage Manager to make our re-imagined production of Carmen happen on high streets & in Arcola Studio 1 this summer.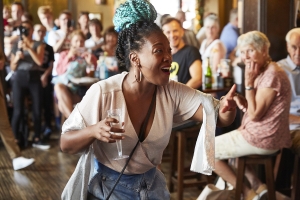 We are looking for a Stage Manager who is happy driving a small van with costumes, props and equipment to each of our high street performances in South London for our unique 'street opera' performances which give local people a chance to experience high quality accessible opera for free. The opera is re-imagined for London life today, edited to approx. 1hr and sung in modern English with 4 singers, 3 professional instrumentalists and a youth brass trio. The ideal candidate would be comfortable working with the Director & ASM at performances to organise the team, drive the van to different locations and preferably can read music. As well as our street performances, we are also presenting the production in Arcola Studio 1 for 1 week as part of their Grimeborn Festival after our similar sell-out re-imagining of Die Fledermaus (4 stars The Guardian & The Stage) in 2019.
Dates: Monday 25th July – Sunday 21st August (includes rehearsals, street performances & Arcola)
If you're interested in applying please email Artistic Director Joanna Turner for more details: [email protected].
Baseless Fabric is committed to diversity and we are particularly keen to hear from practitioners from ethnically diverse backgrounds.
Calling Brass Band Young Musicians
Would you like to play in a professional opera production?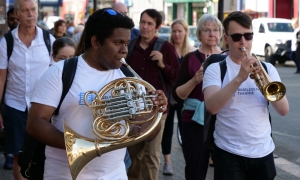 Develop your musical talents, have fun and be inspired?
Do you play a brass instrument at grade 6 or above?
Find out more about a unique opportunity this summer!
Baseless Fabric is offering you the unique opportunity to:
Be in a walking band of 3 players
Work with a professional musical director
Perform alongside professional musicians and opera singers
Gain professional playing experience and a professional reference.
The 1-hour performances will pop up on the High Streets of Merton and Wandsworth with the Carmen story re-imagined for modern London life. Between scenes the audience are led to each location by a brass band as they follow the story from their local supermarket to their local pub and beyond.
Dates
Rehearsal: Mon 1st or Tue 2nd August
Street performances: Thu 4th & Fri 5th Aug
Street performances: Thu 18th – Sun 21st Aug
We are interested in hearing from students who are available for either one set of dates, or both sets of dates.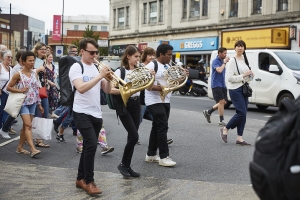 Requirements
The opportunity is open to anyone aged 17 or over and in education studying one of the following brass instruments: Trumpet, Cornet French Horn, Tenor Horn Trombone, Euphonium, sousaphone, Tuba
How To Apply
To register your interest and receive more details please email Rachel Kraftman: [email protected]