Sadie is the red dragon. Jason is the green dragon. It's been that way since nursery. But now as they edge towards their late twenties, their lives pull them in different directions. Will their friendship suffer a final, fatal rupture, or endure stronger than ever? Inspired by real issues of real Merton people we've spoken to, this new opera puts modern friendship under the microscope, examining the pressures that push some relationships to breaking point, and the joys that sustain others despite the odds.
Drifting Dragons is an opera about everyday life performed in everyday locations along the high street. The free unticketed performances take place on the street. Watch the performance pop-up then follow the story!
Do you know what goes on in my head? Do I know what goes on in yours? Maybe it's not what either of us expect…
Follow our characters on an everyday journey through Battersea hearing their inner thoughts via an app previously downloaded to your smartphone. A promenade theatre piece using digital media written by Tamara Micner inspired by intergenerational workshops with local people in South London.
Part of the Wandsworth Art Fringe 2016.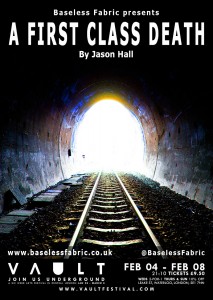 1854: London's cemeteries are full. The London Necropolis Railway is built in Waterloo station to transport the dead outside the city. 2015: London's cemeteries are filling. The line is re-opening. And you've got a ticket. Baseless Fabric invite you onboard for this promenade performance about the fact you're going to die one day.
A First Class Death uses the fascinating history of Waterloo's vaults to explore the attitudes and rituals around dying today. The piece will challenge, entertain and involve the audience as they move through the local area and the atmospheric Cavern space, once a repository for the dead awaiting their final journey.
Lick a lollipop and pass it on. This key opens which door? A lost rainbow. Dig it up. X marks the spot. Those who seek might find. What do you believe? What is it worth? Fall down a rabbit hole and follow the treasure hunt. As part of Bush Bazaar, a theatrical treasure hunt about truth and value – how one person's rubbish is another's salvation.
A theatrical treasure hunt at the Bush Theatre in collaboration with Theatre Delicatessen as part of the Bush Bazaar.