Thanks to the generosity of Merton Giving and Wimbledon Foundation we are thrilled to be offering Merton & Wandsworth care homes an opera performance session in their garden or car park this autumn. Based on the successful format we have previously provided to older people's lunch clubs at community organisations including Age UK, Commonside Trust and Wimbledon Guild we wanted to offer a musical session to help improve older people's mental well-being during this difficult time. A professional opera singer and pianist will perform several songs and talk about their freelance careers and the work of Baseless Fabric in the garden or car park socially distanced from residents and staff.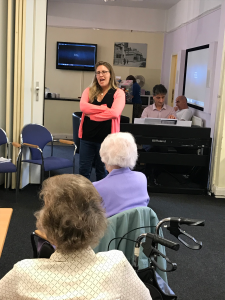 If you know a local care home that would be interested and whose restrictions will allow for outdoor visitors this Sept please get in touch!
Meanwhile, we are also intending to offer care homes a full performance of our acclaimed modern English Die Fledermaus next year so that residents and staff can experience the joy of a full operatic story (and a very funny one with hilarious characters and super catchy tunes)! We currently have a fundraising target of £9k to give 6 care homes this opportunity (as well as providing work for 12 freelance professional artists who have all seen their income disappear during this crisis). We have various funding applications into trusts and foundations but if you are able to donate towards this joyful experience for local elderly please donate here!
Click to Support this Care Home Project!
Supported By: