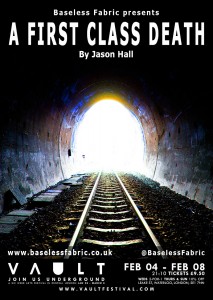 by Jason Hall
1854: London's cemeteries are full. The London Necropolis Railway is built in Waterloo station to transport the dead outside the city. 2015: London's cemeteries are filling. The line is re-opening. And you've got a ticket. Baseless Fabric invite you onboard for this promenade performance about the fact you're going to die one day.
A First Class Death uses the fascinating history of Waterloo's vaults to explore the attitudes and rituals around dying today. The piece will challenge, entertain and involve the audience as they move through the local area and the atmospheric Cavern space, once a repository for the dead awaiting their final journey.
Reviews
A First Class Death is particularly effective as a promenade piece because the physical setting and the concept are inseparable
- A Younger Theatre
Be challenged to genuinely reflect upon (and laugh about) your own mortality.
- 3 Stars, Remote Goat
Expertly using the communal and ritualistic devices of theatre to bring about honest discussions about death and funerals
-

, Theatre Bubble
It's an evening unlike many others-
Rachael Smith, A Younger Theatre
Blog Posts
Dates & Times:
4th – 8th February 2015
21:10 Wed-Sun and 16.40 matinees Sat & Sun
Tickets:
£9.50
Wednesday: 2-For-1
Thursday & Sunday: 10% off
Thursday: Post performance Q&A (optional & inc in ticket price)
A short part of this performance takes place outside. Please dress sensibly.
Address: Leake St, Waterloo, London, SE1 7NN
Cast
Marie Blount studied drama at Royal Holloway University of London and trained at Drama Studio London. Her previous theatre credits include work at: The Pleasance, Theatre 503, The National Theatre (Inside Out Festival), The White Bear, Madame JoJo's, The Edinburgh Fringe Festival and The Romanian International Theatre Festival. She co-directed, wrote and acted with a comedy theatre company, Peeled Over, for several years.
She has worked with ensemble theatre companies such as Tangled Feet, Ladder To The Moon and The Laugher Unit. Marie directs regularly as a co-founder for a children's theatre company.
Sui-See Hung graduated from drama school two years ago and has worked consistently in theatre, film, and voiceovers. She has enjoyed performing at venues such as the Finborough, Southwark Playhouse, Theatre 503, The Kings Head, The Park Theatre, and The Albany. She is excited to be a part of the Vaults festival with such an intriguing show as A First Class Death.
Barry McStay is from Kildare, Ireland. He studied English and History at Trinity College Dublin before training as an actor at East 15, graduating in 2011. Theatre credits since include Eugénie Grandet (Hartshorn/Hook, Edinburgh Festival), Romeo and Juliet (Rosemary Branch Theatre), Rory and Rascal (Riff Raff Productions), Twelfth Night (Such Stuff Theatre Co. at Brighton Festival), Noah's Ark (Blue Elephant Theatre, Off-West End Award Shortlisted), Cinderella (DK ProDuKtions).
Film: Age Of Kill, Are You Albert?, You're Promoted! (Keep It Tidy Productions). Regular immersive collaborator with Gideon Reeling, as well as performing with HalfCut and LAS Theatre; rehearsed reading of Bogwog' by Abbie Spallen (Hightide Festival Theatre), Oh What A Lovely War (Samuel Beckett Theatre, Dublin), Noise (Painted Filly, Bewley's Café Theatre, Dublin). Barry is also an improviser, having performed with groups in Dublin and London, and a writer, with two plays due for production this year.
Chandni Mistry trained at Bath Spa University. Recent credits include, Privates On Parade (Sidmouth Rep Season), Mad Bees Riot In The Light (Soho Theatre), I Killed My Best Friends Father (Albany Theatre), The Crossing (Tamasha Theatre), Arrange That Marriage (UK tour).
Chandni is a part of physical theatre company Hide and Seek Theatre. She devised and performed her one woman show Radha Is Looking Good, which toured in venues across the UK and Europe.
Julian Pindar trained at Guildhall School of Music & Drama, graduating in 2008. Past theatre credits include Enjoy (Gielgud Theatre & UK Tours), I Was A Rat (National Theatre), The Fool (The Cock Tavern) Carnival of Wonders (ITG Productions), Hedda Gabler (Icarus Theatre Collective), Othello (Icarus Theatre Company). Film credits include TACHO (2 Landa S.R.O), W.E. (The Weinstein Company), Walking, Talking, Kissing (Club Panico Films). TV credits include The Guide (Real Productions). Julian has also appeared in a number of commercials, music videos & video games including Virgin Media, Bacardi, Nero & Playstation.
Rajneet Sidhu trained at The Birmingham School of Acting. Rajneet is a fan of new writing & recently took part in The Hightide festival in the play IED. She also performed in the hugely successful run of Unsung at The Edinburgh Festival 2014. Other theatre credits include Sweet Cider & Blood (Tamasha Theatre). TV credits include Holby City (BBC). Rajneet is excited to be involved in A First Class Death.
Creative Team
Playwright – Jason Hall
Director – Joanna Turner
Associate Producer – Jordan Eaton
Designer – Christianna Mason
Sound Designer – Edward Lewis
Lighting Designer – Robert Youngson
Assistant Director – Anna Marsland
Production Manager – Francis Pindar